Text: Hilde Haakensen
www.hildehund.com
Pictures: Katerina Cechova
The World Show 2002 was held in Amsterdam from the 4th to the 6th of July. The Miniature Schnauzers were shown Thursday the 4th, and the entry was high for all four colors: 94 salt/pepper, 43 white, 83 black, and 95 black/silver. The total entry of dogs to the World Show was over 14,500 dogs, from 53 countries all over the world – truly an intercontinental happening! The winners of the following classes would also qualify to participate at Crufts 2004: Junior Dog, Junior Bitch and the CACIB winners.
The entrance to the show was quite caotic: none of the parking people could tell us where the different halls were or how to get inside, so we had to walk for ever to find our ring. And the show area was humongous: 11 big halls, they were all connected so it was quite challenging to navigate. All the dogs had to be examined by a veterinarian to get in, and the lines were endless. You had to be starting early to make it to your ring in time! The rings were nice: big with lots of space around. The lighting could have been better could have been better. Separate grooming areas had been designated, and everything inside was well organized.
Group 2 was huge with 56 different breeds and lots of strange breeds I have never seen before. BOB salt/pepper "Dialynne Leveller from Risepark" , and BOB black/silver: "Digger-Heike v. d'n Oppasser" made the final cut and were picked out amongst the 8 best in the group.
The weather was lovely all day, and after the show we could walk through the park with our dogs to get back to our hotel.
Miniature Schnauzer Salt/pepper
Dvergschnauzer salt/pepper

Judge/Dommer:
Mr. L.F.Haverstock (Canada)
BOB/Best i rasen:
NS Ch NV-00 Dialynne Leveller from Risepark
Owner/Eier: Hilde Haakensen
Best Veteran/Beste Veteran: Ned./Int. ch. Motown's Rock Olga DK/F/Lux Ch., Tispe,
Owner/Eier: P. Björklund
BOS/Best i motsatt:
Echodale Star, Tispe,
Owner/Eier: J. Nouwen
Miniature Schnauzer black/silver
Dvergschnauzer sort/silver

Judge for dogs/Dommer hannhunder:
Mr Uwe Fisher (Germay)
Judge for bitches/Dommer tisper: Mr G.Vandoni (Italy)
BOB/Best i rasen: Digger-Heike v. d'n Oppasser, hann
Owner/Eier: J.P.M. Nouwen
Best puppy/Beste valp:
Black-Velvet Foeke v. d'n Oppasser, tispe,
Owner/Eier: S.J. Oomen-Janssen
BOS/Best i motsatt: Scedir Red Pepper It. Ch., tispe
Owner/Eier: A. Marenzi
Judge/Dommer:
Mrs R. Sporre-Willes (Sweden)
BOS/Besti motsatt: Aurelio de Gilthov's, hannhund,
Owner/Eier: A. Thovar
BOB/Best i Rasen: Starlen Kapriol, tispe,
Owner/Eier: J. Vishnevskaya

Unfortunately no pictures of the black winners/Desverre ingen bilder fra Dvergschnauzer sort
Miniature Schnauzer White
Dvergschnauzer hvit

Judge/Dommer:
Mr. G.Vandoni (Italy)
BOS/Best i motsatt: Made in Spain Garabatos, hannhund,
Owner/Eier: Vincenq Cano-Blaylock
Best Veteran/Beste Veteran: Mercedes v. Bommerholz, tispe Owner/Eier: M. Roloff
BOB/Best i Rasen: Made in Spain Crisis Zw.Ch., tispe
Owner/Eier: J. Lasry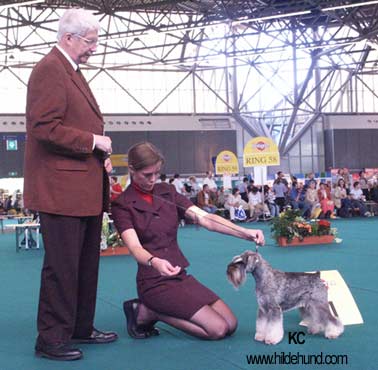 Bob Ch Dialynne Leveller from Risepark with judge Mr. L.F.Haverstock and owner/handler Hilde Haakensen